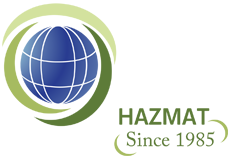 Hazmat (1985) Ltd. Is a multidisciplinary engineering company that specializes in planning, consulting and advisory services in the areas of environment, safety risk engineering, fire safety and fire prevention. We offer our clients a wide range of services which escorts the project from the raw idea stage, through planning, construction, routine process, dealing with faults and incidents and business continuity, all of this through a peaceful and harmonic existence with the environment, the community and authoriti.
Address: 23 Ha'Melacha Afek Park, Rosh Ha'Ayin
hazmat@hazmat.co.il
Tell: 03-9037141
Fax: 03-9032717
תחום תעשיה וסביבה
מאגד את נושאי השתלבות התעשיה בסביבתה. המומחים בתחום עוסקים באיכות הסביבה ומערכות ניהול התומכות בפעילות נכונה, בטוחה וידידותית של הארגון בסביבתו.
המומחים
המומחים בתחום תעשיה וסביבה בהזמט הם כימאים, מהנדסי כימיה, מהנדסי איכות הסביבה, מתכננים סביבתיים, ממוני ומהנדסי בטיחות.
תחום הנדסה וניהול סיכונים
מאגד בתוכו את כל נושאי הנדסת והערכת סיכונים - ניתוח והערכת סיכונים עבור תהליכים בעלי סיכון גבוה בשלבי תכנון, הרחבה או בתהליך קיים.
המומחים
המומחים בתחום תחיקה ומדיניות בהזמט הם מהנדסי כימיה, מהנדסים וכימאים.
תחום תחיקה ומדיניות
מאגד בתוכו את כל הנושאים הקשורים לתחיקה במדינות העולם ומדיניות של גופים מקומיים ובינלאומיים בנושאי איכות הסביבה, אקלים, כימיקלים ועוד.
המומחים
המומחים בתחום תחיקה ומדיניות בהזמט הם מומחי איכות הסביבה, ביולוגים, גיאולוגים וכימאים.